Do you think that wine pairs nicely with cheese and pizza pairs nicely with beer and sweets just top it all off? Have you ever thought of pairing food with bourbon? The Grand Traverse Resort recently held a Bourbon Dinner that paired a four course dinner with bourbon from Buffalo Trace Distillery. As the sun set over the bay, Aerie restaurant was alive with the potential of an exciting, specially prepared dinner by the Grand Traverse Resort.
Executive Chef Bill Matthews created a first class gastronomic experience. The first course paired Blanton's Single Barrel Bourbon with a vanilla bean gastrique over baked focaccia bread crostini with maytag blue cheese and warm spiced pecans. Yum! But, that my dear friends, was just the beginning. Next up was a lovely peppery arugula tossed with honey crisp apples, toasted almonds, camembert cheese with smoked shallot orange zest Eagle Rare vinaigrette salad of sorts paired with an Eagle Rare 10 year Single Barrel Bourbon. I mean, who comes up with these dishes? Chef Bill of course!
The next course was an intermezzo, a break from the richness of the dinner. I heard the chef talk about the trial and error it took to find just the right marrying of flavors for the sorbet; ginger with bourbon. The bourbon served with the sorbet was a Buffalo Trace Small Batch Bourbon. And the diners loved every minute of it!
The main course was an espresso rubbed slow roasted tenderloin with saskatoon berry ridgemont demi glace, served with apple wood bacon wrapped potato terrine and butter poached brussel sprouts. There were three different potatoes under this tender mouth watering piece of meat. Paired with 1792 Ridgemont Reserve Bourbon. I believe the Chef received a standing ovation for this course!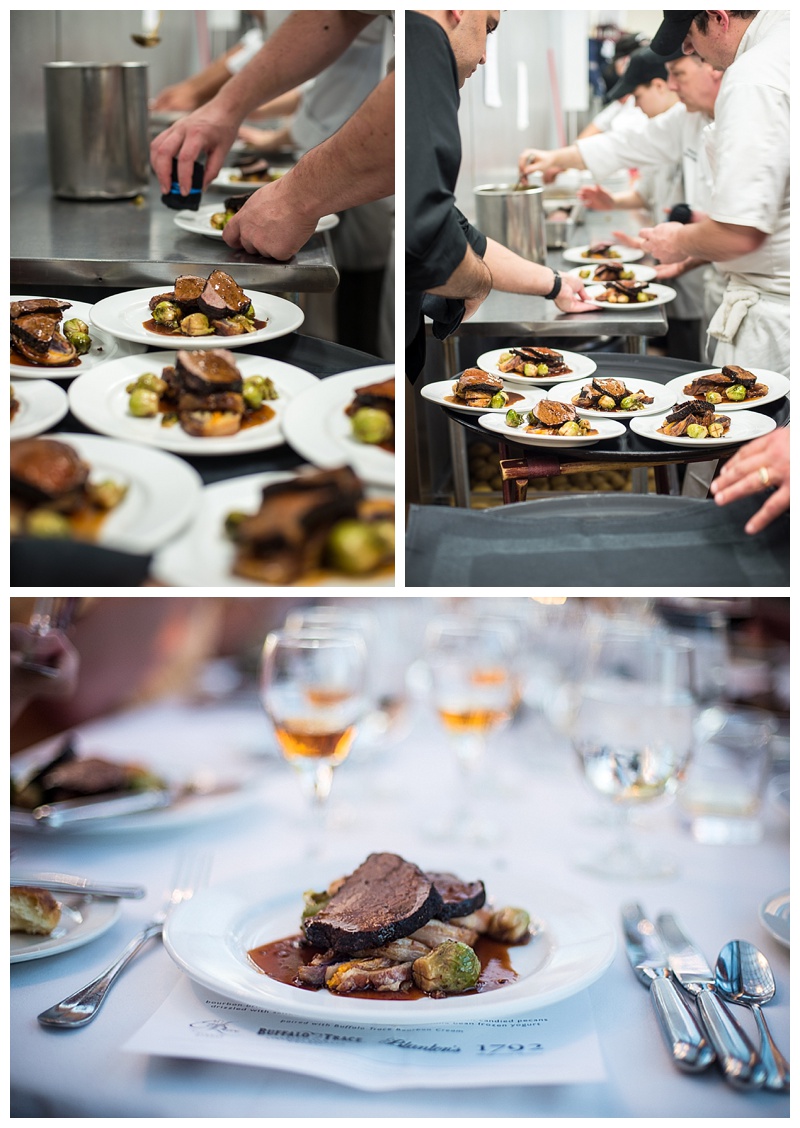 The last and final course, paired with a velvety creamy bourbon from Buffalo Trace was a bourbon brioche bread pudding souffle, with sugar bourbon candied pecans drizzled with salted caramel, and served with vanilla bean frozen yogurt. Oh gosh, what a delight! Bourbon, bourbon, bourbon... all night long.
What a dinner! What an experience! Bravo Chef Matthews! Bravo Grand Traverse Resort for such an amazing dinner!!! And thankyou Buffalo Trace for providing the distinctively special bourbons!